Bio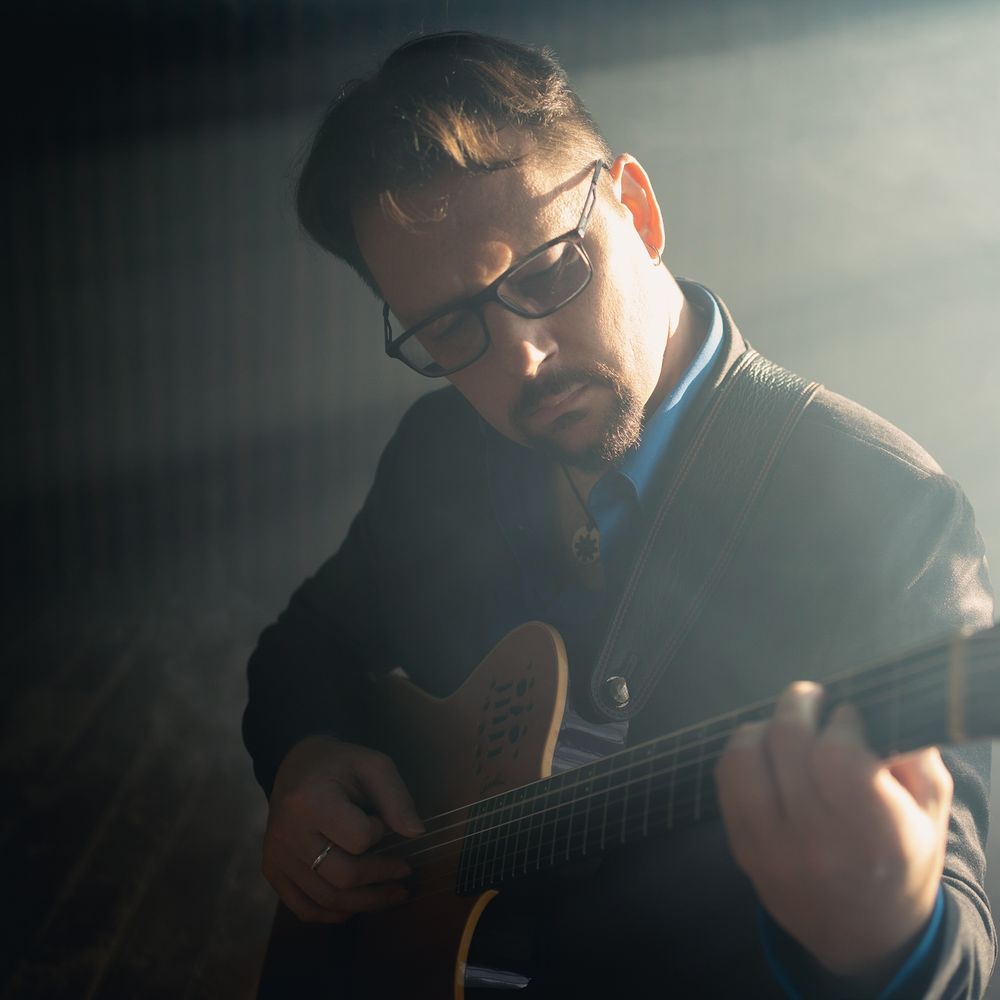 Eric Kurimski is currently regarded as one of the preeminent voices in contemporary Afro-Peruvian guitar and his music has been termed "a groundbreaking fusion of jazz and Afro-Peruvian forms" by the Boston Globe. His unique sound has made its mark on some of the world's biggest stages, including Carnegie Hall, Lincoln Center, South by Southwest, and WOMEX.
Eric Kurimski was born in upstate New York and received his Bachelor's from SUNY Purchase in 2000, where he studied under the tutelage of the great jazz guitarist Steve Kahn. Kurimski could have hardly imagined the turn his life would take a mere two years later when a friend casually loaned him an album, affording him the opportunity to hear Afro-Peruvian music for the very first time. He was immediately taken by the depth and mastery of the guitar tradition in Peru and enamored by the raw emotional power of vocalists such as Eva Ayllón and Manuel Donayre, artists who, unbeknownst to him at the time, would eventually become his peers. 
With no hesitation, Eric Kurimski went directly to the source, becoming first a student and subsequently the protege and close friend of the celebrated Afro-Peruvian guitarist, Carlos Hayre. He began making frequent trips to Lima where he quickly became a sensation, performing in the city's most illustrious events, such as Festival Internacional del Guitarra APJ and Festival de Música Ensambles Británico. He became a mainstay at the Festival Internacional del Cajón, where he appeared in three different years. Through his frequent performances south of the equator, he earned his place among the foremost artists of the Afro-Peruvian style, sharing the stage with heavyweights such as Juan Medrano Cotito, Marco Campos, Manuel Donayre, and Freddy "Huevito" Lobatón. 
Kurimski later earned his masters in music from Queens College, splitting his time between studying with jazz greats Antonio Hart and Michael Mossman and studying a variety of latin styles with acclaimed Venezuelan guitarist Aquiles Baez. When Kurimski released his debut album, "Réplica" in 2008, it was chosen as album of the year by Latin Jazz Corner and lauded as a "brilliant co-mingling of traditions" by Guitar Player Magazine. By 2014, Kurimski was already touring with Eva Ayllón, the reigning queen of Afro-Peruvian song, with whom he recorded "Mujeres con Cajones," an album nominated for a Latin-Grammy in the category of best folkloric album.
A versatile guitarist equally at home in musical settings from the most delicate to the most explosive, Eric Kurimski has been the choice of a diverse array of vocalists and ensembles. His album credits include collaborations with Lara Bello, two albums with Sofia Rei, and an appearance on Sonia de los Santos' "Alegria," which also received a Latin-Grammy nod in 2019. His rhythmic guitar style and jaw-dropping solos have been the choice of a wide variety of New York based groups, including the cumbia band Moneco, the Afro-Colombian band Rebolú, and Afro-Peruvian group Festejation. His tours with Spanish songstress Sara Van have even taken him back to Lima for an appearance on the city's biggest stage, El Gran Teatro Nacional. 
Eric Kurimski is currently focused on his 2021 release as a bandleader, "La Molina," a recording which brings together a unique assortment of all-stars from Peru, Colombia and New York. The recording offers unique opportunities to hear Afro-Peruvian singer Charo Goyeneche alongside Sofia Rei, to hear Juan Medrano Cotito teaming up with a New York rhythm section, and even to hear the Afro-Colombian marimba of maestro Diego Obregon backing Eva Ayllón. Throughout the myriad of intercultural dialogues on this album, Kurimski's masterful guitar work can be heard in the role of the storyteller whose deftness and vision weave these voices into one.